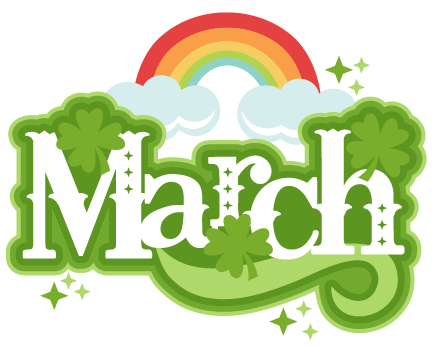 Directors Message
Hola Familias ,
We hope this finds you all well and enjoying the spring weather! Spring break is upon us.
I encourage you to treat it as a reward. You deserve a fun, relaxing escape from the daily routine . But, of course, here comes the serious part to my message: We need your smiling faces back on campus happy and healthy.
No matter how you spend next week – whether it be faraway in a sunny paradise with friends, at home with family, remember to have fun.
The Spring weather brings us outdoors and back into sunscreen and hat mode! Please apply sunscreen every morning and it is great to have your child bring or keep a hat at school (name on the hat please!).
We apply sunscreen before the afternoon play time outside.
Thank you for all you do and Happy Spring!
Mireya
---
🐞 Ladybug Classroom
Dear Parents,
At the beginning of this month, rain made us spend more time in our classroom. But I am sure our children didn't miss the outside activities because we planned energetic activities called "camp light yoga" and used a unique lantern to practice by.
We jumped, crawled, danced, and sang. We did the "Dark Rainy Day" five minutes of meditation on rainy days to calm their minds and bodies. Also, we talked about how the rain happens during circle time. Along with those rain activities, we followed this month's curriculum learning about stems, fish, St. Patrick's Day, and the continent of Europe.
Math
We used the leprechaun's gold pot for a math job. The teacher gives the child a number that corresponds with one of the pots that hangs on a holder. The child finds the correct number on the pot and hangs it on the hanger. The Ladybugs loved that job!
Fish counting cards: children learn the numbers by placing the correct amount of fish under the number.
Language
Shamrock color matching: children are learning the colors and matching shamrocks.Children are also learning the name of vegetables and their colors. We are learning about the animals of Europe using Montessori's three part card method.
Writing
The Ladybugs started to practice their names by tracing the sand paper letters.
Cultural
We planned to teach the children about European food, historical places, and the European map. Also, my little travelers made their travel passports to visit European countries.
Science
We are learning about botany (the life cycle of plants) and zoology (the live cycle of fish as well as parts of the pig.) The ladybugs are naturally curious and interested in learning about everything and they have been having a great time.
Sensorial
Using Maria Montessori's iconic Pink Tower, the children are learning patterns and matching the correct sized cube to pictures.
Practical Life
Children are learning to pour pasta from one container to another. The Ladybugs are also making spaghetti using playdough. This develops their fine motor skills while also learning about European food from Italy.
Spanish
Ms. Mari introduced the St. Patrick's shamrock shape and also shared a story about five little frogs who are living on a farm.
As usual, our child had great fun dancing with Miss Kira and celebrating St. Patrick's day. We were looking forward to celebrating our Ladybug Emiliano's 3rd birthday at the end of the month.
Please enjoy this newsletter until we are back with new experiments.
Rasika, Jackie, and Mari
---
🐝 Bumblebee Classroom
Dear Parents,
We cannot wait for spring! The Bumblebee class has been busy with botany themed lessons: parts of a plant, needs of a plant, parts of a flower and root systems. We are eagerly anticipating the warm sunshine for our future growing projects. We are thrilled to share that we will have a kids garden project, both indoors and outdoors. We would like to ask for your help with donating seed packets, as we would like to put together a gardening seed organizer binder for us to keep for future planting. We plan to grow a microgreen "chia pet", veggies, herbs and flowers throughout the warm season and into fall. Growing our own plants will provide many benefits: a connection to nature, fostering patience and responsibility, hands-on healthy diet habits, activation of senses and appreciation for the natural environment, to name a few! There are many fun projects to extend at home like growing kitchen scraps and experimenting how seedlings grow towards the direction of a light source.
The next continent for spring will be Asia. We will learn the flags of our classmates' cultural backgrounds like India, China and Philippines. We will tie-in the animal kingdom of amphibians, covering the frog life cycle.
The Spanish lessons with Ms. Marisela have been fun and lively. We are learning the colors as we correlate it to our environment. We play "I Spy" games in circle and integrate the Spanish words into our daily activities. We are busy bees and it is fun to see happy faces in the classroom!
Warm regards,
Ms. Pat and Ms. Marisela
---
🐛 Caterpillar Classroom
Dear Caterpillar Families,
Just like the buds bursting forth into blossom at this time of year, the children have been filled with exuberance and excitement for school! Although they have had many many days indoors, the Caterpillars have navigated the extremes with their usual flexibility and exuberance.
March is a month of celebrations that the children love: St. Patrick's Day and the first day of Spring. We celebrated St. Patrick's Day by hosting a little golden leprechaun in the classroom who brought gold coins on Friday! The children were amazed and pleased. They planned their green outfits for days in order not to get pinched. As teachers, we feel so lucky (pun intended) to work with preschool children and experience their natural joy.
We will celebrate Spring by planting flower seeds in peat pots and learning about the life cycle of the plant in real, first hand experiences. Look forward to those seedlings coming home sometime in April.
This dovetails nicely into our Botany unit; where the children study plants; roots, stems and leaves. We are also studying the Amazon Rain Forest and all its biodiversity as we focus on the continent of South America. We will focus on birds, animals, flowers and fruit as well as the many layers of the Amazon rainforest. If you are interested in learning more, ask your child about the 3-toed sloth and what lives and grows in its fur. You'll be amazed!
The kids have been eager to challenge themselves in language; sounding out words, rhyming and recognizing "sight words" = simple words that don't adhere to the rules of sounding out, like 'the' 'she' and 'he'.
The children are enjoying sewing. Sewing, weaving and loom bands have many benefits for preschoolers, including strengthening hand- eye coordination, increasing fine motor coordination and attention span. Not only are these activities beneficial for the aforementioned reasons, they are also a lot of fun! The Caterpillar's have graduated from blunt needles to real needles (with sharp tips) and they are currently sewing small pillows. It is such a treat to see the pride in their faces as they complete their projects.
Looking ahead, we will be studying the continent of Australia after Spring Break. We wish each of you a very enjoyable Spring Break and we look forward to seeing you all in April! As usual, thank you for sharing your children with us.
Mireya & Roxanna